Welcome to the Fanfics section, home of all sorts of creative stories about Son Gohan! A brief word of caution, I write at various levels from clean to mature. Those with mature themes,etc. will be noted as such before you even click on them. I hope you enjoy!
And I love getting comments,etc. about my stories. It helps me in future writings as well as a good motivator for me to continue, since afterall, these fics are only here for you. If it wasn't for those of you who read them, why would I bother posting them at all? My email is saiyan_scholar@yahoo.com
Special note: For the most part, I do not mix Japanese words with English in my stories. This breaks up the flow of the story and readers may have varying levels of understanding of the Japanese language. So you'll usually see "idiot" instead of "baka" and names will be suffix-less such as "Trunks" rather than "Trunks-kun" and so forth. This way all who read will not have to suffer through trying to understand a Japanese word, its pronounciation, or having to dive into a book about Japanese culture just to read one of my stories.
Also, a fellow Dragonball fan decided to compile an editorial about Writing in general. She's currently writing a nicely done Pan/Trunks story called "Waiting". That fic as well as the editorial can be found on her own site. Here's the link to her editorial. From there you can also access her fics,etc.
Writing Editorial by The Noseless Wonder
---
"The Trouble with School"
A note in the mail from the Orange Star High principal reaches ChiChi's hands. It's trouble for Gohan! Can he and his alterego, the Great Saiyaman survive the ordeal? Will Satan City?
"Reminiscence"
Everybody's relaxing before Cell's Game. Gohan's bored and decides to strike up
conversation with Mirai Trunks. All seems peaceful enough until baby Trunks decides to intervene. Gohan, don't powerup, he's just a baby, he doesn't know any better!
"Gohan's Second" click here to see my fanart rendering of "Gosan" age: 15
Set around the "GT" series, Gohan's first, Pan is sixteen and suddenly receives the news from her parents that she's not going to be an "only child" any longer. Will this spoiled warrior girl adapt to the situation and accept the new family member? Will this new addition to the Son family line prove saiyan or human heritage?
"Devil His Due"
Gohan's sick and tired of hearing Vegeta put down his friends. It's time to "burn" this royal saiyan and put him in his place. Gohan, you naughty boy!

"Pleasure Paradise" WARNING: RATED NC-17!!!
My lil' brief synopsis of a little romp Gohan & Videl have during their honeymoon which brings forth a prominent member of the Dragonball GT series.
"Great Saiya-what!?" currently ongoing

Set just after the "GT" series, the Great Saiyaman has returned to defend Satan City from injustice. But is there more to this revived hero than meets the eye? Could it be a revival in name only?
"Destination: Earth"-mature themed ..currently ongoing


A female Saiyan, the last of her gender has discovered that there are surviving Saiyans on the planet Earth. She seeks to use them as mates to repopulate their race. Set in a time when Goku's dead, only Vegeta and Gohan can suit her needs...but why does she exclude the last full-blooded and royal Saiyan from her options? Can Videl survive and stand up to this seductive monkeywoman? Will her love for Gohan finally give the oblivious boy a hint? Gohan, use that brain of yours...the one on top of your head!
(for larger view of pic above, click on it) Cover fanart done by Kathie Soto --"thanks Kathie!":)
Click here to see a fanart rendition of the character 'Veleet' from this storyby me
Click here to see a fanart rendition of "Veleet" done by Saiyan No Oji Torunkasu-san
Prologue

Chapter 1: Saiyan Betrayal!?

Chapter 2: The Hunt Begins

Chapter 3: Stalking Prey

Chapter 4: The Attack

Chapter 5: The Regrouping

Chapter 6: Predator or Prey?

Chapter 7: View to Kill (note: with this chapter, this story is now developing its rated-R/mature rank, please do NOT continue to read if you are not comfortable/not allowed to read such matieral!)
A World Apart: From Warrior to Scholar
An Autobiography of Son Gohan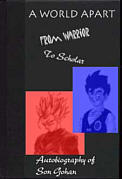 ...currently ongoing
This is a sort of "mini-book" I will be writing from Gohan's perspective. It will recap the stages of his life as the Dragonball series progresses from Gohan's first appearance in Dragonball Z all the way to GT. It will
be presented in stages/chapters with a new chapter highlighting a key phase or experience in Gohan's life. Supplemental chapters wil cover memorable "incidents" which could also be known as the DBZ movies.I will also try to fill in gaps in the series that were hinted at,
but never elaborated, such as Gohan and Videl's growing relationship, their wedding, and so forth.