PRESENT TRUNKS SECTION
---
GOHAN SECTION
SERIES/SHOW SECTION
---
MISC. SITE SECTION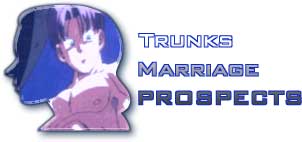 If you've seen all of Dragonball GT, you will know that Trunks ends up single by the end of the entire Dragonball saga. Many fanfics place him with other singles within the series such as Pan or Marron. Here's where you'll find info on these single, potentially lucky ladies (and guys) and what their chances may be with the only son of Vegeta.
Remember, these are my perceptions/opinions and not those of the actual series although I do use examples of the series to enhance my perspectives.
Click on a heart below for info on prospect.