PROJECT A-KON 12 PHOTO ALBUM
(click on thumbnail to see larger image)

a DBZ voice actor autograph session. A cosplayer "Great Saiyaman 2/Videl" gets a 'personal' signature from Chris Sabat (Vegeta/Piccolo/Yamcha). Also seen in image is Meredith McCoy (Android 18) and Mike McFarland (Yajirobe/Master Roshi).

Final Fantasy CosPlayer who turned heads in the halls.

Trigun CosPlayer who coursed the halls.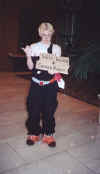 An amuzing & creative "what if" Mirai Trunks had to work for things?

The Great SaiyaTeam in trademark poses. Is it just me or did Gohan get too much "Son?" (I know bad pun...oh well)

SailorMoon cosplay group. Something has to be said for suiting up in numbers eh?

The Sheraton Park Central Hotel, Home to part of Akon 12

The Westin Park Central Hotel. Home to the other part of Akon 12

My 'ride' at the DFW Airport. One AmericanAirlines MD-80 at your service.
That's all folks! (there would've been more, but ah, well I sat too far back in the CosPlay and I kept forgetting to bring my camera with me when I left the room to attend stuff).