PRESENT TRUNKS SECTION
---
GOHAN SECTION
UPDATES

08 February 2006: I decided to open it back up to viewing. There will still be NO UPDATING to content in this site however as I mainly focus on my new site endeavors at my own domain, www.chaoswolf.com

Corporatate Calamity/I Stand Alone fanfic combo is NOW COMPLETE. The final chapter(s) not available here...go to fanfiction.net and search under the name "Dragoness" then scroll down and find "Dragoness of Fire". That's me. The fic is there. I forgot which disk I had save the thing on so I can't put it here until I find it.

NOTE: Some links in the nav bars may not work.

Please do NOT send me any submissions of fanfics/fanart,etc.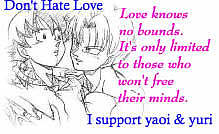 NEWZ

*This site's previous incarnations were mentioned in the Feb. '02 issue of Beckett's Dragonball Collector! Was split page so click on the links below to view:

beckett 1 beckett 2

site revamp 15 Dec. 2001

Orig. sites designed 1999.

Owned by "Dragoness" blazedragoness@yahoo.com
Disclaimer: All of Dragonball/Z/GT ,their characters are the property and copyright of Akira Toriyama, Bird Studio, FUNimation, and any other companies and persons associated with the series. This site is for entertainment purposes only and is not affiliated with the aforementioned nor does it exist for profit.

SERIES/SHOW SECTION
---
MISC. SITE SECTION